Publiek Park 2023
Monika Emmanuelle Kazi

It was a story I never tell to you, 2023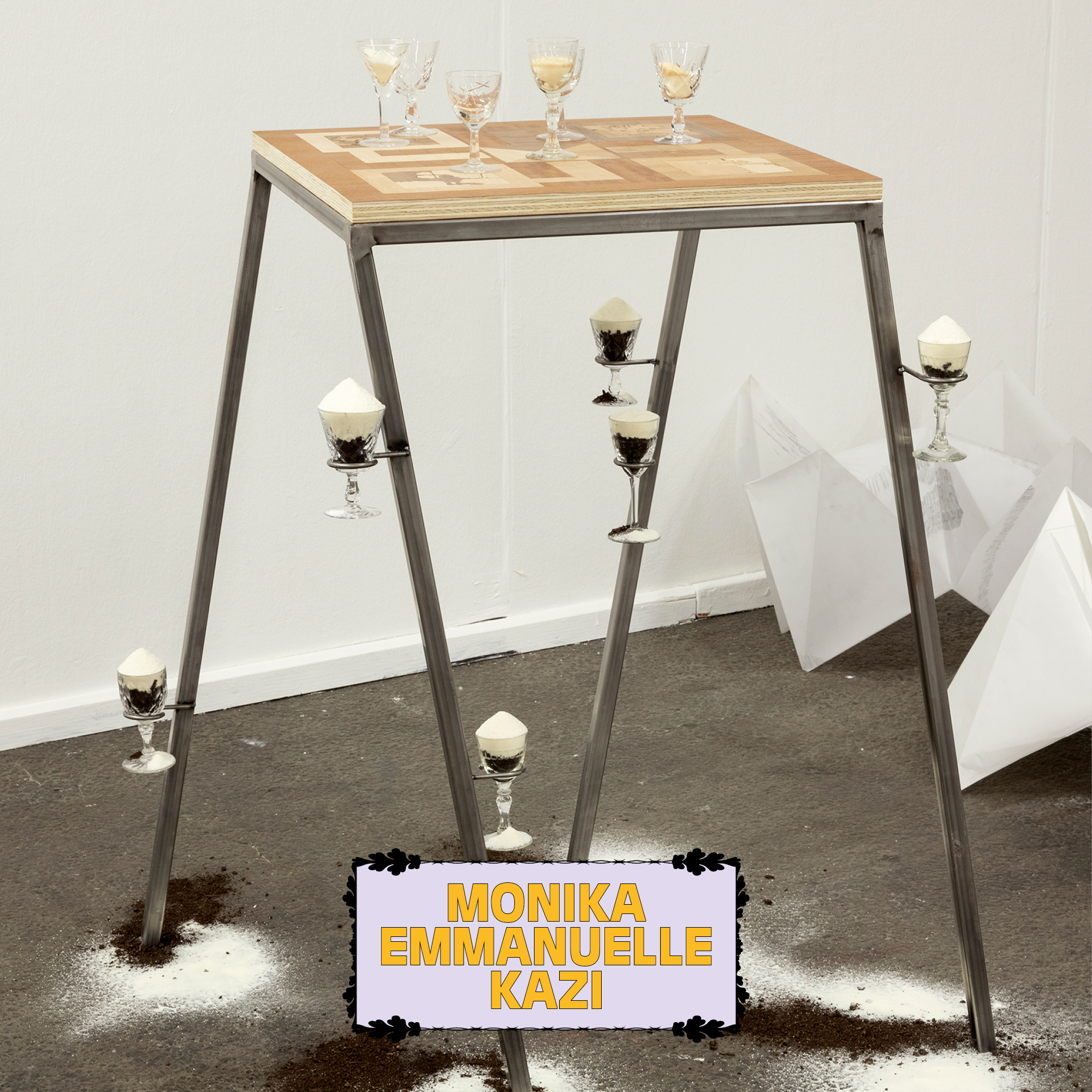 EN

It was a story I never tell to you, 2023

On the fencing of the monument to Camille Coquilhat, dozens of paper fortunes are hung in reference to the Japanese Buddhist tradition of omikuji. These omikuji are typically strips of paper on which various predictions or fortunes are written. After receiving the omikuji, a sacrifice is made, and the strips of paper are hung on a tree or a fence. In her installation, Monika Emmanuelle Kazi is referring to omikuji, mixing written texts with visual material, archival images and images from the film Les statues meurent aussi (1953) by Alain Resnais & Chris Marker. The prints on the papers become visible after contact with water from a rainfall.

Do you know how to play?, 2022

At Moonstreet, the film Do you know how to play? shows two protagonists in the middle of a game, referencing Ingmar Bergman's film The Seventh Seal. From a distance, they are playing Ludo, a well-known game from West Africa, on a wood marquetry created by the artist. The film offers no real narrative progression, apart from sinking us deeper and deeper into an ever-more abstract game of Ludo played by characters supposedly without a past. Beside a relaxing lake, not far from the head office of the corporate monster, manufacturer of the Nido milk powder used in the film, the movements of the performers recall the mythical dimension of an endless, senseless confrontation.


The personal and the global intertwine in Monika Emmanuelle Kazi's (1991, FR) practice. Through her texts, installations, video works and performances, she explores the emotional and historical charge of everyday objects, as well as movements, matter, and architecture as porous areas of contact, traces of changing histories. Born in Paris, Kazi grew up alternating between living in France and the Republic of the Congo, eventually moving to Switzerland where she currently resides. Her diasporic identity serves as an entry point to her practice, as she delves into exploring the expressions of bodily memory in relation to this aspect and within the context of domestic space.



NL

It was a story I never tell to you, 2023

Aan het hekwerk van het monument voor Camille Coquilhat hangen tientallen papiertjes, verwijzend naar de Japanse boeddhistische traditie omikuji. Deze omikuji zijn meestal stroken papier waarop diverse voorspellingen geschreven staan. Na het ontvangen van de omikuji wordt een offer gebracht en worden de papiertjes aan een boom of hek bevestigd. Monika Emmanuelle Kazi eigent zich met dit werk de omikuji vorm toe en combineert geschreven teksten met visueel materiaal, archiefbeelden en stills uit de film Les statues meurent aussi (1953) van Alain Resnais & Chris Marker. De prints op de papiertjes worden enkel zichtbaar na contact met het water van een regenval.

Do you know how to play?, 2022

In Moonstreet wordt de film Do you know how to play? getoond. De film volgt twee protagonisten midden in een bordspel, verwijzend naar de film The Seventh Seal van Ingmar Bergman. Van een afstand spelen ze 'Ludo', een bekend spel uit West-Afrika, op een houten marqueterie gemaakt door de kunstenaar. De film kent geen duidelijke narratieve voortgang maar trekt ons mee in het steeds abstractere Ludo-spel, gespeeld door personages die verondersteld worden geen verleden te bezitten. Naast een rustig meer, niet ver van het hoofdkantoor van de fabrikant van het 'Nido' melkpoeder dat in de film wordt ingezet, roepen de bewegingen van de performers de mythische dimensie op van een eindeloze, zinloze confrontatie.


In het oeuvre van Monika Emmanuelle Kazi (1991, FR) zijn het persoonlijke en het mondiale verweven. Met behulp van teksten, installaties, videowerken en performances onderzoekt ze de emotionele en historische betekenis van alledaagse voorwerpen. Ze ziet bewegingsstromen van materie en architectuur als poreuze gebieden van contact, die dienen als sporen van veranderende geschiedenissen. Monika Kazi is geboren in Parijs en groeide op in Frankrijk en de Democratische Republiek Congo, om uiteindelijk naar Zwitserland te verhuizen waar ze momenteel woont. Vanuit haar diasporische identiteit verkent ze de uitdrukkingen van lichamelijke herinnering, met name in relatie tot deze identiteit, en binnen de context van de huiselijke ruimte.


Photos by Michiel De Cleene & Charley Croonen