Publiek Park 2023
Paola Siri Renard

garderobe, 2023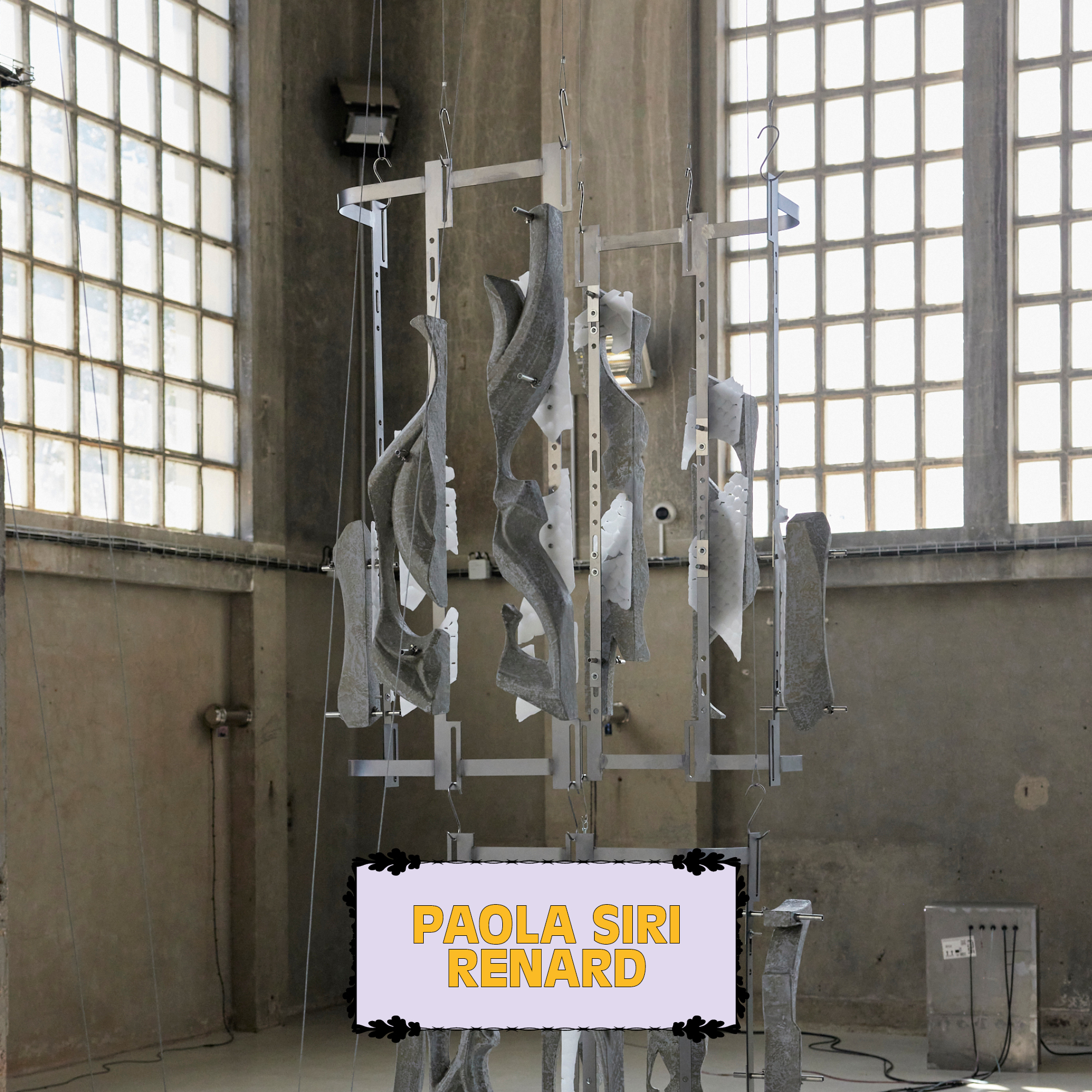 EN

(dazzling) garderobe, 2023

Paola Siri Renard's work (dazzling) garderobe enters into a dialogue with the Monument to Peter Benoit, located at Harmonie Park, which was designed by the Belgian architect Henry Van De Velde. In response to Van De Velde's artistic legacy, the artist appropriates various elements of his Art Nouveau designs. Drawing from the mythical wings of Lucifer and from the water element present in the monument, she incorporates migration and adaptation narratives into hybrid shapes of unidentified insects. This sculpture becomes a tangible process of transitional states, being neither human, nor animal or vegetal, merging natural and manufactured objects of defence.


Paola Siri Renard (1993, FR/BE) is an artist living and working in Paris and Brussels. Her sculptural work often refers to art history, architecture and natural processes, like sloughing or fossilisation. The artist isolates sculptural ornaments, which are then rescaled and segmented, and reassembled into new compositions. Stripped from the original context, the elements gain an anachronistic quality, carrying aesthetic codes from varying time periods. Metallic structures like mechanical bones support the ornamental elements. Renard's visual language evokes metamorphosis, bodies disintegrating and morphing into new constellations. Her sculptures unveil and distort formal grids and political structures, subtly influencing spatial arrangements and dynamics of social interactions. Through her physical reappropriation of prevailing architectural forms, Renard's work raises questions about the treatment of heritage, its dissemination, and the exclusionary underpinnings that marginalise specific identities.



NL

(dazzling) garderobe, 2023

Het werk garderobe van Paola Siri Renard gaat in dialoog met het Monument voor Peter Benoit, gelegen in het Harmoniepark, ontworpen door de Belgische architect Henry Van De Velde. Als antwoord op het artistieke nalatenschap van Van De Velde eigent de kunstenaar zich verschillende elementen van zijn Art Nouveau-ontwerpen toe. Uitgaande van de mythische vleugels van Lucifer en de waterpartij van het monument, verwerkt ze hybride vormen van ongeïdentificeerde insecten in haar werk. De sculptuur wordt een tastbare representatie van transitiefases, die noch menselijk, noch dierlijk of plantaardig zijn. Op harmonieuze wijze versmelten natuurlijke en vervaardigde defensieve armaturen en ontstaat er een delicaat evenwicht tussen fluïde en solide vormen.


Paola Siri Renard (1993, FR/BE) is een kunstenaar die woont en werkt in Parijs en Brussel. Haar sculpturale werk verwijst vaak naar de kunstgeschiedenis, architectuur en natuurlijke processen, zoals vervelling of fossielen. De kunstenaar isoleert sculpturale ornamenten, die vervolgens worden verschaald en gesegmenteerd, en opnieuw in elkaar worden gezet tot nieuwe composities. Ontdaan van de oorspronkelijke context krijgen de elementen een anachronistische kwaliteit, met esthetische codes uit verschillende tijdsperioden. Metalen structuren zoals mechanische botten ondersteunen de decoratieve elementen. De beeldtaal van Renard roept metamorfose op, waarbij lichamen uiteenvallen en veranderen in nieuwe constellaties. Haar sculpturen onthullen en vervormen formele rasters en politieke structuren, waardoor ze op subtiele wijze de ruimtelijke arrangementen en de dynamiek van sociale interacties beïnvloeden. Door een fysieke herovering van heersende architecturale vormen roept Renards werk vragen op over de behandeling van erfgoed, de verspreiding ervan en de uitsluitende onderbouwing die specifieke identiteiten marginaliseert.


Photos by Charley Croonen & Michiel De Cleene